Mobile Industrial Field Laundry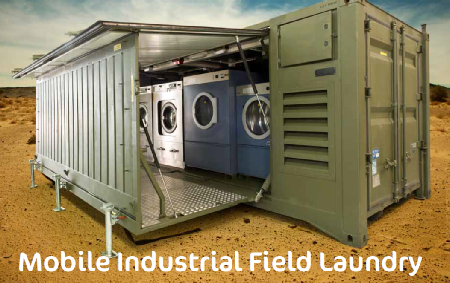 Mobile Industrial Field Laundry
Originally specified for field use by the British Ministry of Defence.
Designed and built to an exacting ISO specification using the highest quality equipment manufacturers (Miele, Karcher,
Iveco). These units deliver performance, longevity and reliability for any strategic or industrial field application,
where breakdown is not an option. Simple to operate, a comprehensive suite of programmes can deal with all fabrics
and fouling from contaminated mining coveralls to soiled medical garments.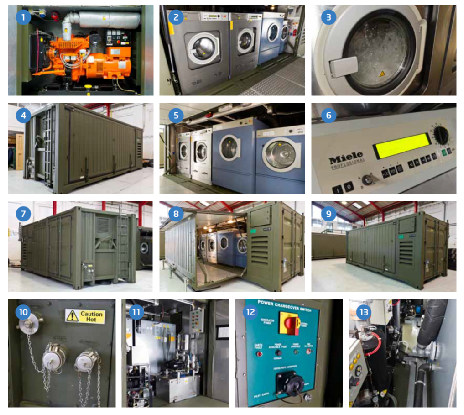 Self contained Iveco 40kVA diesel generator with integral tank and soundproof bulkhead.

Miele professional washers and dryers (50kg per hr wash and dry).

Large loading doors for maximum efficiency and the ability to wash and dry bagged laundry.

20ft ISO container certified by GL and CSC. Easily transportable by std road haulage and container ship.

Fold out canopy from container side allows increased access and operator protection from elements with full lighting for non daylight operation.

The Miele "Professional" range are heavy duty industrial machines with simple foolproof programming for various material types, and a life expectancy of 30,000 hours.

Containers have a hook lift for easy loading and dismount. (weight total 9600 kgs)

Extending canopy with rigid insulated floor and walls, plus air conditioning allows complete operator comfort in a defined working area.

When not in use the containers are self contained and fully secure.

Due consideration has been given to ease of waste water disposal.

Integrated piping and waste water management.

The complete laundry can be powered by the on board generator or by mains hook up (220/240v). All electrical installations are to BS 7671 with failsafes.

Water is heated by efficient Karcher diesel burners to give maximum economy and speed.
Brief outline of features
20FT Purpose built ISO Container with expanding shelter

Operational from –31C to +55C

Miele 'Professional' spec rugged equipment designed to work hard 24/7 with industrial soiled clothing

Wash and dry 50kgs per hour

30,000 hour life expectancy

Will handle bagged laundry if required, avoiding sorting logistics

Internal noise levels below 75Db (A)

5kw of air conditioning for operator comfort

Climate controlled operator area in expanding container

Self powered (40 kVA diesel generator on board)or mains power

42 kw Diesel water heaters. Fail safe power design to BS7671

Three Karcher diesel burners giving reliability and maximum fuel efficiency

Iveco (40kVA) diesel generator in a separate sound proofed compartment running a brushless alternator

On board diesel tankage

Designed to stringent BS codes for electrical water and waste management

Fully fail safe (P55)

Water conditioning: designed for use in hard water areas with on board anti-calcification dosing unit

Full operational manuals supplied with spares back up
Mobile Industrial Field Laundry – Video