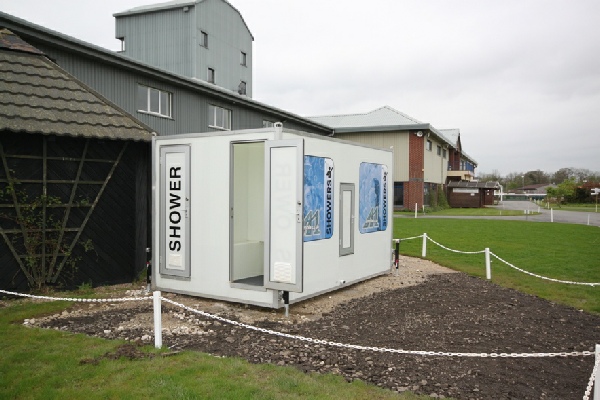 Mobile Shower Hire Units For Your Event
Here at A1 Mobile we can provide you with clean, contemporary mobile shower units for your events. We have a range of shower units suitable for your needs. We have got our new style showers, out traditional showers, and for larger events our tent showers. These provide a wide range of uses and are great for any events. When it comes to your event your guests will be expecting the same level of attention that you put into the event as you do with your shower and toilet hire. This is why our showers are provide you with the quality you desire.
Mobile Shower Information You Need to Make Your Decision
New Style Showers Specs
4 individual cubicles
• Integrated Seating
• Hooks for convenience
• Partitioned changing area
• Disabled unit available
• Adjustable legs for ease of positioning
• Water heating takes place using Instantaneous Gas Boiler
• IP65 rated electrics (water proof) to comply with the highest building standards (1 x single phase 16 amp supply)
• This system also ensures you never run out of hot water as water is heated on demand
• Safe and secure as the boiler room is contained within a lockable boiler room and each shower cubicle has its own entrance door
• longevity of life
• This installation would suit any installation that requires a changing room and shower facility in one and needs shower facilities on a permanent or semi-permanent basis. As these units are so robustly engineered they can be considered as permanent installations
Tent Showers
Up to 240 shower heads available in one marquee building
• Multi bay shower system
• Increments of 12 shower placements
• Anti-vandal shower heads
• Formed out of free standing aluminium
• Re-locatable boiler supplied
These showers are used for two very different events, the tent showers are used for more larger events. This all comes down to how many people will be attending the event and will be needing showers.